We know Parineeti Chopra, as the most talented and bubbling Bollywood actress, she has always managed to keep her personal life away from the limelight. However, recently her brother, Shiv Chopra, took to social media to share some unseen moments from her engagement ceremony with Raghav Chadha, revealing a glimpse into their joyous celebration. The photos and videos shared by Sahaj gave fans a rare glimpse into the private affair, which was filled with love, happiness, and memorable moments.
Check the unseen pictures coming from her bro: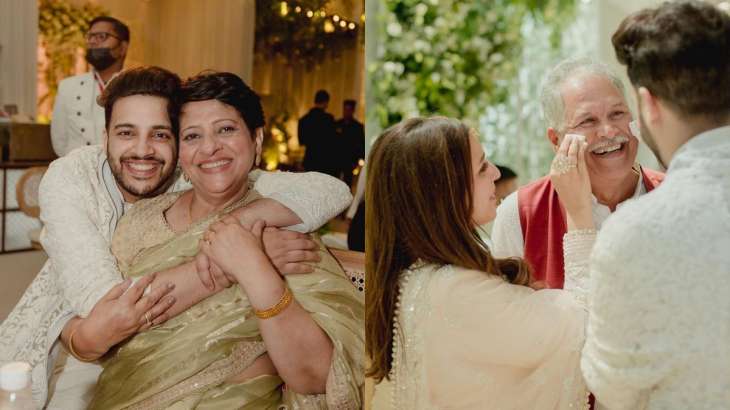 The engagement ceremony took place in an intimate setting, surrounded by close family and friends. The venue was beautifully decorated with flowers and fairy lights, creating a romantic ambiance. Parineeti Chopra looked stunning in a traditional Indian attire, adorned with exquisite jewelry. Her smile radiated pure joy as she exchanged rings with her fiancé, Raghav Chadha, a successful entrepreneur.
The pictures shared by Sahaj Chopra captured the essence of the engagement ceremony perfectly. One image showcased Parineeti and Raghav standing together, their hands intertwined, and their eyes filled with love and affection. It was a candid moment that encapsulated the deep bond they share.
In another photo, Parineeti's family, including her parents and siblings, beamed with pride and happiness as they celebrated this special occasion. The sheer joy on their faces spoke volumes about the love and support they have for Parineeti and Raghav.
Sahaj Chopra also shared a heartwarming video where Parineeti and Raghav were seen dancing together, their laughter echoing through the room. The couple's chemistry was evident as they swayed to the music, lost in their own world. It was a beautiful sight, and fans couldn't help but feel elated witnessing their happiness.
The glimpses into Parineeti Chopra's engagement not only showcased the love between the couple but also highlighted the importance of family and togetherness. It was evident that the occasion was a union of two families coming together to celebrate the beginning of a new chapter in their lives.
Fans and well-wishers flooded the comments section of Sahaj Chopra's social media posts, expressing their excitement and sending heartfelt wishes to Parineeti and Raghav. The couple's engagement became the talk of the town, with media outlets and fans eagerly awaiting further updates on their wedding plans.
Parineeti Chopra has always been known for her incredible talent and versatility as an actress. However, with this engagement, she showcased a new dimension of her life, one filled with love and happiness. Her fans were overjoyed to see her embracing this new phase, and the glimpses shared by Sahaj Chopra added to the excitement and anticipation surrounding the couple's future together.
As Parineeti and Raghav embark on this beautiful journey, fans can't help but hope for a lifetime of love, happiness, and success for the couple. The moments shared from their engagement ceremony will forever remain cherished memories, not just for them but also for their fans who have supported them throughout their careers.